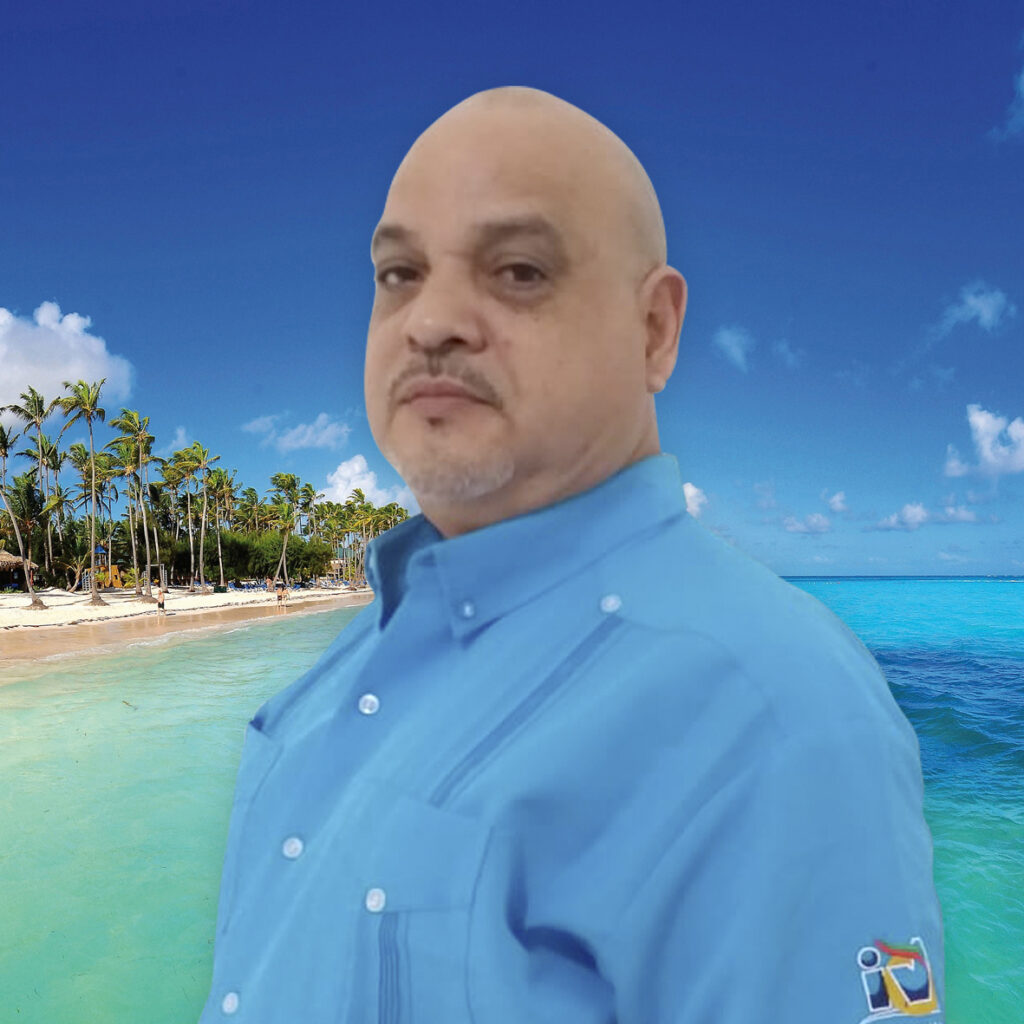 Hello, I'm Randolf van de L'Isle
Destination Manager
Randolf van de L'Isle was born in Moengo, Suriname on June 28, 1966. His family moved to Paramaribo in 1969, where he finished his elementary and high school education. He started his Civil Engineering studies at the Anton de Kom University, but his studies were interrupted due to the tumultuous political climate and the economic depression that hit Suriname in the late eighties and the early nineties. After traveling around South America and the Caribbean he finally settled in the Dominican Republic in 1994 as a construction consultant and English instructor.
In 1995 he was drawn into the hospitality industry due to this his fluency in several languages and became a specialist in the field of Sales and Customer Service while working for prestigious companies such as Melia Hotels and Royalton Hotels. In 2020, as all tourism activities in the Dominican Republic came to a halt due to the global pandemic, he entered the world of DMC by joining IVI DMC and is currently the Destination Manager in the Dominican Republic.
Randolf considers himself a problem solver and a motivator with great communication skills. His peers consider him a natural leader centered around goals, assertiveness, and confidence, geared to perfection and cultivating teamwork. He enjoys involvement in local community projects, especially where it benefits underprivileged children in the Punta Cana region. He is also a donor for Doctors Without Borders, which he admires for their much-needed work around the world. He loves the Dominican Republic and is proud to be a naturalized citizen of this country.
Personal Favorites
---
Local Attraction: The old colonial city of Santo Domingo is one of the places that he recommends everyone should pay a visit to during their stay. It was declared a World Heritage Site by UNESCO in 1990. Walking along the cobbled stoned streets and taking in the many many 500 years old historical sites gives visitors an overwhelming sensation of how much we have overcome as a society.
Recreational Activity: Walking and hiking especially in the early morning hours, helps has helped Randolf find his focus and realization that every new day brings new opportunities. Woodworking is another of his personal favorites as it helps him unwind mentally.
Restaurant: He fancies Asian food, especially Indian cuisine, the rich odors, flavors, spiciness are a true delight for his senses. Randolf's favorite drink is a nice cold beer especially in the company of friends and family and a deep meaningful conversation.
Local Event: Baseball, the national sport of the Dominican Republic. He enjoys visiting the nearby ballpark in La Romana during the "winter" months (it is always summer in the Dominican Republic) to root for Los Toros, because as they say: "Aquí todos somos Toros, y el que no ... que se mude" (Here, everyone is a Toros fan, and the one's who are not, should relocate).